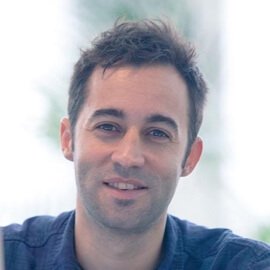 Background
I'm Edu Cabellos, coffee-lover and visual designer based in Mallorca, Spain. I design attractive, friendly, easy-to-use interfaces with a core focus on detail.
The tech world had always appealed to me and so I started out studying for a Diploma in Computer Engineering at university. After a year I realized what I was really interested in was design, so I decided to turn my degree on its head and began studying graphic design in the Balearic Islands School of Design (Escuela de diseño de las Islas Baleares, EDIB).
At the end of 2009 and during the third year of university, I began an internship with Atipika Media, a leading interactive agency located in Mallorca. It was my first contact with the professional design world and with important clients from the tourist industry and private and public sector. My role was to assist as a FrontEnd support developer.
In January 2011 I began working at Logitravel, one of the most important travel agencies in Spain. I grew quickly professionally in the company, working actively on the interface design of some of the lines of business as well as being responsible for the FrontEnd department. I also played an important role during the FrontEnd implementation of the new portal design in 2012.
In mid-2012, I moved over to 7ideas, an innovative online agency, with close ties to Logitravel. There I was responsible for the website redesign and FrontEnd development.
At the end of 2012, I left 7ideas to begin a new adventure at Mola, an incubator and accelerator for tech projects specializing in mobile and web apps. Mola gave me the chance to actively participate in the design of many different projects, which was something really appealing to me, and that ultimately has allowed me to develop my creativity and grow significantly as a designer.
After my experience at Mola, I decided to start my own adventure as a freelancer. Despite being a risky option to branch out on my own, this was my dream because it would allow me to grow professionally and give me the chance to work on all kinds of projects.
This was how I ended up managing the graphics department for The iProperty Company between 2014 and 2015. My role focused on the entire portal redesign and new visual concept development.
I am currently still working as a full-time freelance designer for clients in Spain and the rest of the world.
Experience
Freelance
Visual Design / UI / UX / FrontEnd
Agosto 2013 - Actualidad
The iProperty Company
Visual Design Lead / UI / UX / FrontEnd
Noviembre 2013 - Octubre 2015
Mola.com
Web Design / UI / UX / FrontEnd
Septiembre 2012 - Julio 2013
7ideas
Visual Design Lead / UI / FrontEnd
Marzo 2012 - Septiembre 2012
Logitravel
Frontend Lead & UI Designer
Enero 2011 - Septiembre 2012
Atipika
Frontend Developer
Noviembre 2009 - Septiembre 2010